Hi, my name is Mike and I created Rancho Silencio for people like you, who want to have their own little piece of Paradise at an affordable price!
When you deal with me you can rest assured that you are getting a deal that is completely on the up and up and that everything will be spelled out in writing by attorneys who are vastly experienced with Costa Rica property sales.
You'll be dealing with people who do things only the right way, all the i's will be dotted and all the t's will be crossed, and that's important no matter where you buy, but especially in Costa Rica!
History Of Rancho Silencio
I first came to Costa Rica in 1992 and fell in love with the country.
Finally I began looking for some Costa Rica real estate for sale and I spent three years looking for "the perfect piece of land". Why did it take so long?
I was specifically looking for something "tranquilo" or quiet and tranquil. While many sellers will tell you that their property is quiet and peaceful, when you go there to look at it you often find a noisy street or highway nearby, noisy roosters or dogs or children, and so on. On the other end of the extreme, I looked at many places that were beautiful, but they were located 40-45 minutes away from a very small town, out "in the sticks".
I wanted a place with lots of nature - trees, birds, water, and wildlife. I wanted a place that felt like "my own nature reserve", but also not completely "off the grid". Rancho Silencio is just that. You want your own little "retreat" away from the rat race, yet not too far from the city? This is it!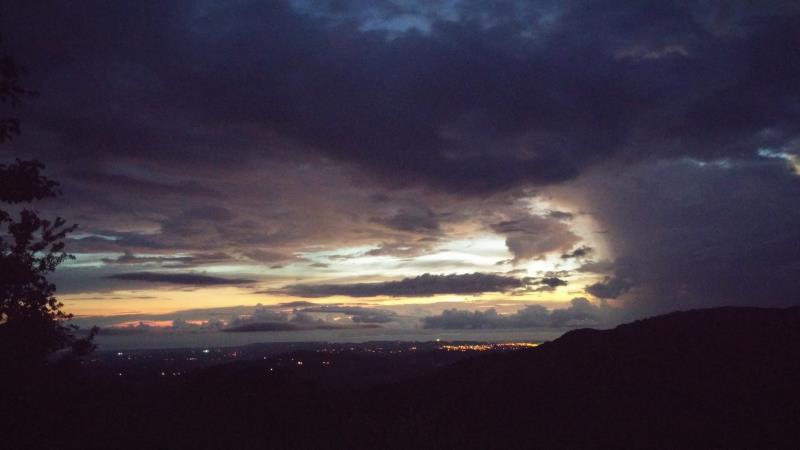 I was also very concerned about the climate. I did not want to live at too low of an altitude with sweltering heat and humidity. (I've lived at the beach before and it's just plain too hot and humid there!) On the other hand we did not want to live so high up that we would have to wear a heavy jacket after the sun went down. (Yes, even in Costa Rica, once you get above 3200 feet or so it can get cold in the evening especially if there is rain and fog.)
I finally settled at 2800 feet because I consider that the perfect elevation - not so high as to get cold at night and not so low as to be too hot during the day. Additionally I was concerned about rainfall. Though it rains a lot almost everywhere in Costa Rica, this is an area of relatively modest rainfall.
Also important to me was that it be near a town that had everything, including a good hospital, plenty of doctors, banks, stores, cinemas and so on. San Ramon has everything you need.
So, this property in the Central Valley of Costa Rica - only 20 minutes from San Ramon and only 10-15 minutes from a U.S. style mall - fits the bill in that respect, as well. Also it is only 45 minutes from the San Jose international airport and just a little further to many large U.S. style "super stores".
It is only about an hour and fifteen minutes to some fantastic beaches on the Pacific Coast and is only an hour and a half from Arenal Volcano - one of Costa Rica's most popular tourist destinations complete with waterfalls and hot springs, and 40 minutes to one of the most beautiful cloud forests in the world.
After checking out several different areas of Costa Rica - from San Isidro in the south, to Puriscal and some of those Central Valley places you've heard about (that now have too many gringos and land prices through the roof) - I chose the area near San Ramon, "the city of poets and politicians". The Tico Times newspaper said this about San Ramon: "Really, it's not so hard to imagine the hills of San Ramon as the Tuscany or Provence of Central America" (April 11, 2005) Yes, it's that beautiful!
So after looking for 3 years and looking at literally hundreds of Costa Rica properties for sale, I finally came across this one and I knew it was what I wanted as soon as I saw it. In fact, 5 minutes after I saw it, even though I had more scheduled to look at, I said "I'll take it!"
I look forward to meeting my new neighbors and creating an ambiance of friendliness and cooperation, but with respect for each other's privacy and quiet so we can all enjoy the natural sounds and tranquility here.
DO NOT HESITATE TO CONTACT ME! I LOVE ANSWERING QUESTIONS ABOUT OUR PROPERTY!

If you'd like me to call you just send a short note below, with your area code and number, and tell me what time zone or state you are in and what time is best for me to call you!
Or ask me for my phone number and I will send my number or my skype name so you can contact me or vice-versa.
Thanks!

Do not worry, I hate spam and would never use your address for any spam purpose nor will I write you except when you ask me for a reply.