San Ramon Costa Rica Property Gallery
San Ramon Costa Rica Property Photos
All of these photos are taken at or from our San Ramon Costa Rica property.  This is a property that you have to see to appreciate!
Every property on this site has views of the Gulf of Nicoya and surrounding mountains and as you can see here they are very beautiful and abundant with nature.
Each San Ramon Costa Rica property seen here is the ideal place for bird watchers or nature lovers. We have a giant forest reserve next door so you will see many varieties of birds and sometimes a monkey, deer or other exciting wildlife. If you want to live in a beautiful place that gives you a peaceful easy feeling, this is it!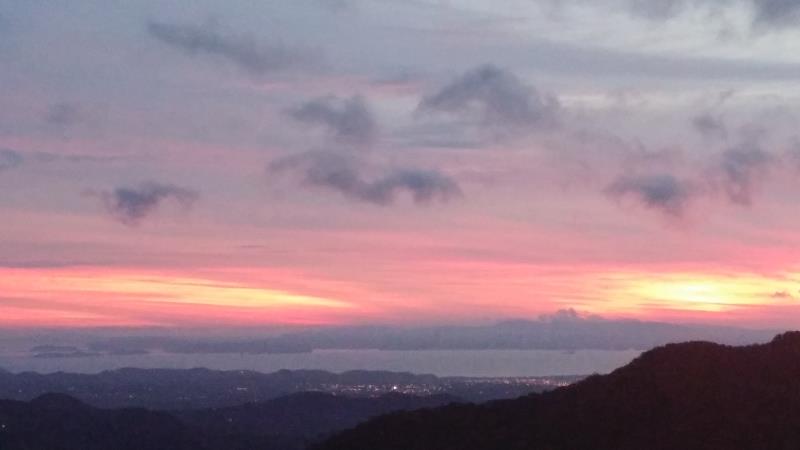 Imagine your own Costa Rica property ...
While these photos of these properties near San Ramon are beautiful, they do not do them justice.
Pictures on the internet do not provide you with the wide views, true colors, nor do you feel the cool breeze, nor hear the chirping birds, or feel the excitement of seeing a group of toucans in a tree nearby first thing in the morning or get a visit from a group of white faced monkeys in the trees nearby!
This is truly a one-of-a-kind Costa Rica property that you have to see  in person to fully appreciate!
I spent 2 years searching for a property like this. Most are not truly quiet as Costa Rica is not generally a quiet place unless you are in the middle of a rain forest!
I was looking for a place where I could get away from the noise and fast pace of the city, leaving traffic and traffic noise behind. I wanted neighbors but not noisy ones and not too many. Above all I wanted beautiful views of natural surroundings.
If you have dreamed of retiring in such a tranquil and beautiful setting, leaving the rat race far behind, this is for you!
If you long to wake up to beautiful sunrises, or to sit on your porch and enjoy beautiful sunsets each evening, this is your dream come true!
There is a San Ramon Costa Rica property here waiting for you - but don't wait too long! This area is starting to get popular! Buy NOW while the prices are still affordable!
NOTE that we can give you credit terms  to buy, if you have good credit and even help take care of the property for you, improving it according to your plans, while you hold on to it for future building!

FIND OUT MORE! ASK US!
There is no obligation nor pressure!
Drop us a line today to ask any questions you have by email, or set up a phone call!
(We hate spam and sales pitches so there'll be none of that!)
Below are the links to each individual Lot's Gallery. You can also get to the Galleries from the Menu at the top of each page, under COStA RICA PROPERTY PHOTOS.
Each lot has its own "personality". In my view none is "better" than the other, it's like apples and oranges.
Also note that they ALL have the same basic view!
The only difference is a slightly different perspective, and that Lot 1 only has a full view from a 2nd floor. Build the bedrooms on the first floor and the living area on the 2nd with a deck, and the view may even be better than the other lots! Remind me to show you the view from Lot 1 from a 2nd floor height, when you visit Rancho Silencio here near San Ramon Costa Rica!
Here are the LINKS TO EACH LOT including the House For Sale on Lot 3:

Lot 3 Photo Gallery
(including House)

Lot 4+5 Photo Gallery
(Lots 4 and 5 not sold separately)